Findy Inc., a leading HR Tech Tokyo-based company (Headquarters: Shinagawa-ku, Tokyo; CEO: Yuichiro Yamada), proudly announces a significant milestone for its global engineering recruitment platform, Findy Global. The platform has achieved an impressive user base of over 30,000 registered engineers. Along with this achievement, Findy Global introduces an innovative search feature, enabling proactive scouting of highly skilled engineers from around the world.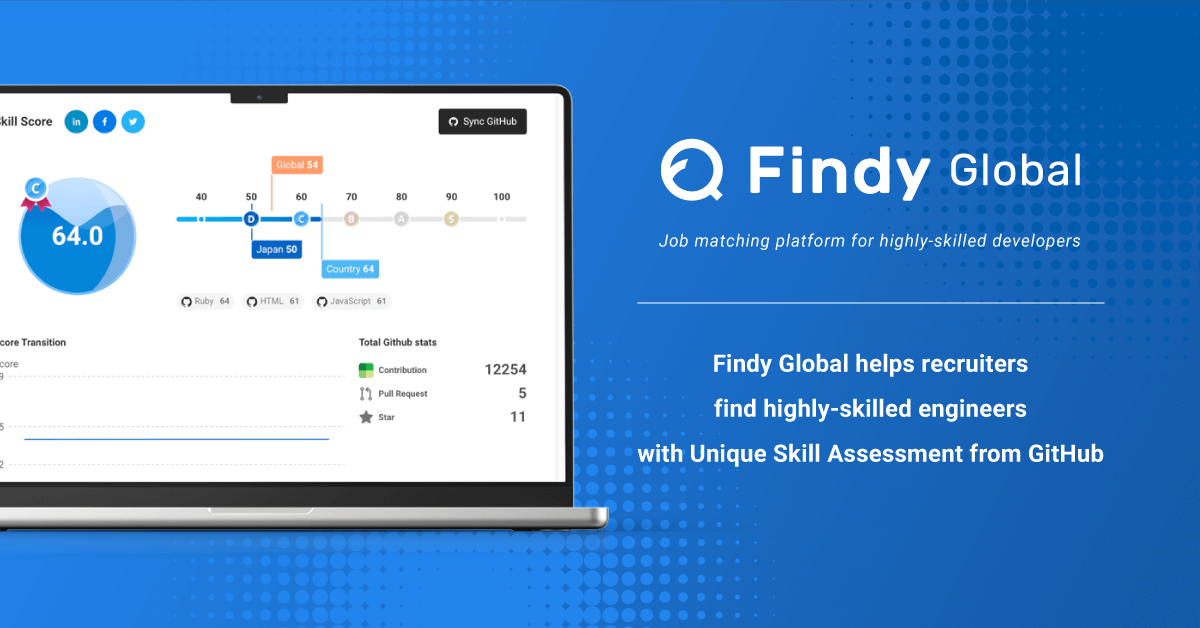 Since its launch in April 2022, Findy Global has experienced remarkable growth, attracting a diverse and talented pool of engineering professionals, with Asia being a focal point. One of the platform's highlights is its unique "Findy Score" function, which provides a transparent skill assessment for engineers, including a salary prediction tool for those interested in pursuing opportunities in Japan. The positive feedback received from global engineers underscores the strong demand for working for Japanese enterprises.
In the context of increasing engineering talent shortages, the prevalence of remote work environments, and the post-pandemic landscape, there has been a growing trend of diversifying engineering teams by embracing global engineers, remote hiring, and establishing local development hubs. 
■Try Findy Global
Findy Inc. recognizes these industry demands and has developed a tailored solution in Findy Global, a platform specifically designed to target high-skilled global IT engineers. The platform's "Findy Score" functionality visualizes engineers' skill levels and analyzes GitHub data to evaluate their influence, resulting in clear and accurate skill scores.
Findy Global not only allows job seekers to await offers and applications but also empowers companies to take a proactive approach by scouting for and directly contacting highly skilled engineers through the platform's integrated scouting feature.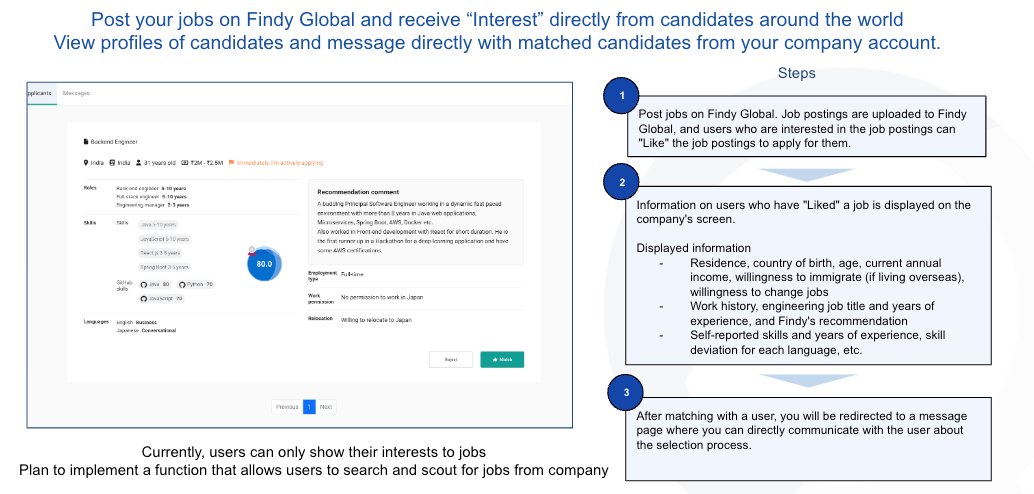 ■ About Findy Inc. – Company Overview
Findy, the Japanese startup that pioneers a novel method for matching Engineers with HR-recruitment needs based on AI, has raised 1.5 billion yen (US$ 11M* ) in a Series C round of funding led by various investors  (* 1USD = 140 JPY)
Findy has experienced remarkable growth, with over 150,000 software engineers registered from Japan and various Asian countries. Additionally, they boast a client base of over 1000 companies, based in Japan. Their platform aims to unlock the highest potential of software engineers, contributing significantly to the development of the digital society.
■ Contact information
Companies seeking to leverage the benefits of Findy Global for global engineering recruitment can easily inquire about my email address. Additionally, new companies can participate in a trial campaign to experience the platform's capabilities. Findy Inc. welcomes inquiries related to global engineering recruitment and organizational development, and encourages interested parties to reach out for a casual discussion.
Contact Information
Suguru Kawashima, CFO 
Gmail: suguru.kawashima@findy.co.jp, Tell: +81-70-8385-2541